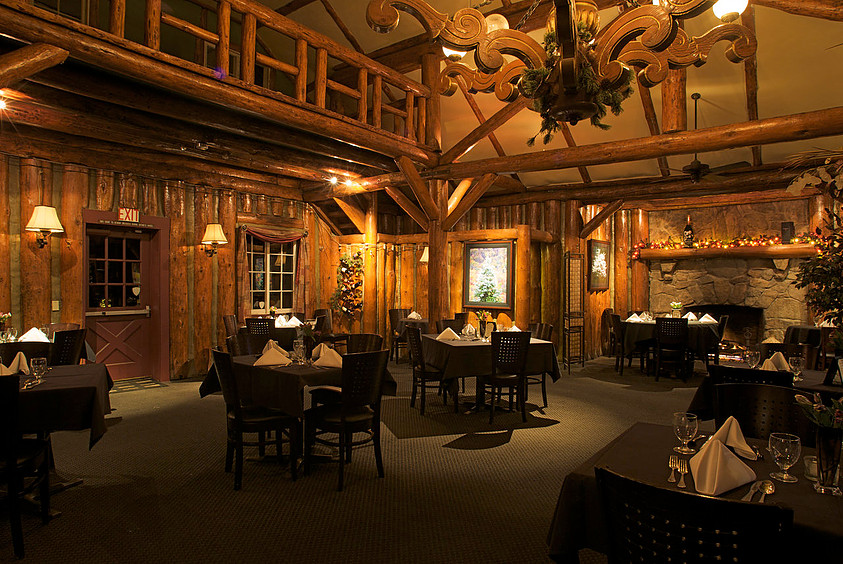 The Grill at the Anlter's Inn is a Lake Arrowhead favorite. Great ambience, great bar and great food. Main dining room has a large fireplace. Reservations are recommended. Menu includes steak, seafood, pasta, fresh soups and salads. Upstairs is a small sushi bar that is open Wednesday – Saturday nights. Great Sunday brunch with over 10 different types of unique eggs benedict to choose from along with all the other breakfast favorites.


For those who really appreciate great food and wine, the BIN 189 Restaurant will awaken your senses in a distinctive atmosphere overlooking majestic Lake Arrowhead. The decor gives an outdoors atmosphere, with birch wood patina, warm fireplace and serene views of the lake and tree tops. Great bar with two huge Antler Chandeliers as the focal point of the room. Savor rustic, robust flavors created from the healthiest natural ingredients; enjoy your meal paired with wines from noted wine-country roadways throughout the world.
The Tudor House has a rich history. The Bracken Fern Manor across the street was known to have been owned by legendary mobster Benjamin "Bugsy" Siegel. Bugsy came up with the idea of opening his exclusive members-only resort in the late 1920's after realizing Lake Arrowhead was quickly becoming the new playground of the Hollywood elite. Opened on July 4, 1929 it consisted of 3 builidngs consisting of a private gambling club, a brothel, a speakeasy, luxury guest quarters, an Olympic size swimming pool, tennis courts, a barbershop, a private gas station, a ski lift horse stables and a highly coveted supply of artesian well water – which was used in the making of moonshine. Today the Tudor House has been completely renovated and converted into a high end restaurant theatre, with a complete theatrical stage with professional sound and lighting, where exciting theatrical and music events take place on a regular basis. Every week they have their Burgers and Brew Wednesdays with live entertainment. They also serve a special Sunday brunch.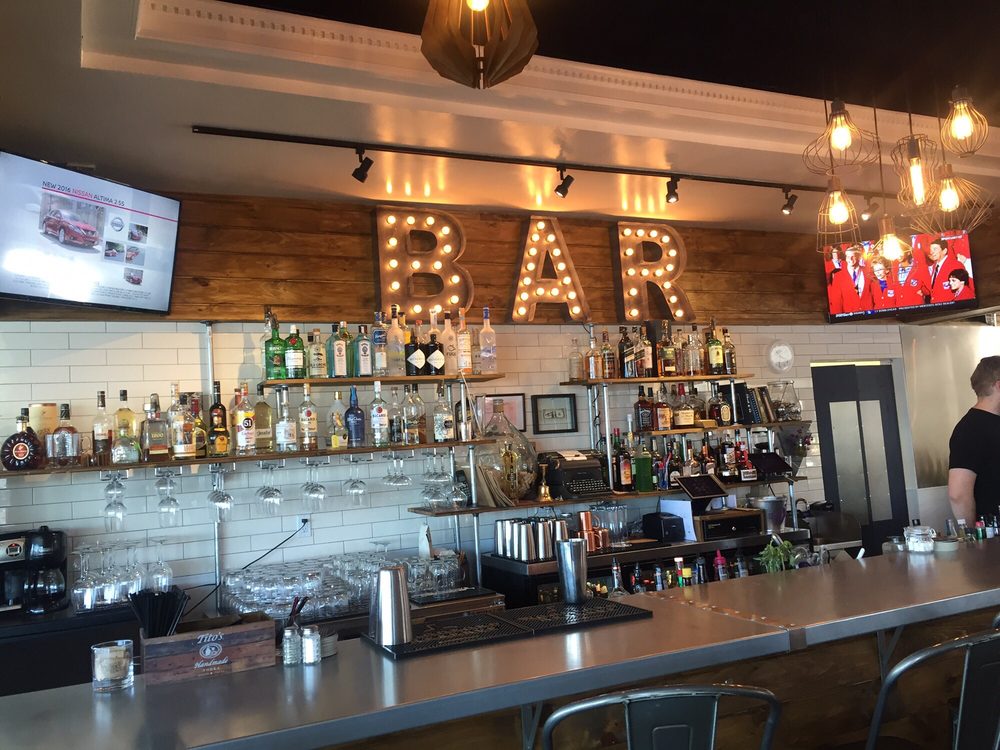 The Lakefront Taproom Bar and Kitchen
The Lakefront Taproom Bar and Kitchen is a bright and window-filled bar on the main shopping level of the Lake Arrowhead Village. Tucked in the corner by Famous Footwear, the restaurant boasts great views of the lake. It is half bar and half restaurant. There are some bar stool level seats by the windows at the entrance. There is then a full bar as well as a counter behind it for additional seating. There are also about 18 or so tables of various assortments.


The Saddleback Grill features a full-service restaurant and bar walking distance from the Village. Menu includes steak, lamb, pork, seafood, pasta and fresh soups and salads.


LouEddies's Pizza is located off Highway 18 in Skyforest, just 5 miles from Lake Arrowhead. LouEddies serves fire-roasted artisan pizza selections and fresh salads, using only the finest locally sourced ingredients. You can grab your pizza and picnic in the park. Be sure to stroll through their historic cabin site and forest garden. Willow Woods Park is located directly behind LouEddie's Pizza and is available for private parties specializing in Weddings, Gatherings and Special Events.


The Lake Arrowhead Sports Grille satisifies appetites with reasonably priced cuisine, served in a relaxed and welcoming sports pub atmosphere. There are plenty of large flat screen TV's through the dining and bar areas…great for watching multiple sports games. The Sports Grill has a full bar and does an excellent job rotating a variety of craft brews on tap. Whether you're an avid sports fan coming to cheer your favorite team or just stopping by to enjoy some old favorites, their delicious menu and friendly staff will provide you with a terrific dining experience.


Mandarin Garden has been a long time fixture in Agua Fria close to Blue Jay Village. This chinese restaurant serves all of the classic favorites like Hot and Sour Soup, Kung Pao chicken, Orange Peel Chicken, Orange Peel Beef, Mu Shu Pork, Mongolian Beef and many others. Friendly service and reasonable prices make this a great restaurant to visit if you want chinese food in the mountains!


Bill's Villager is located in Blue Jay Village and is one of the local's favorite coffee shops. Providing home-style cooking with attentive service, this long standing establishment is a great choice for a hearty breakfast. Try Emil's Dutch Uitsmyter – fried eggs, ham, cheese on grilled sourdough bread with hash browns…great way to start the day in beautiful Lake Arrowhead!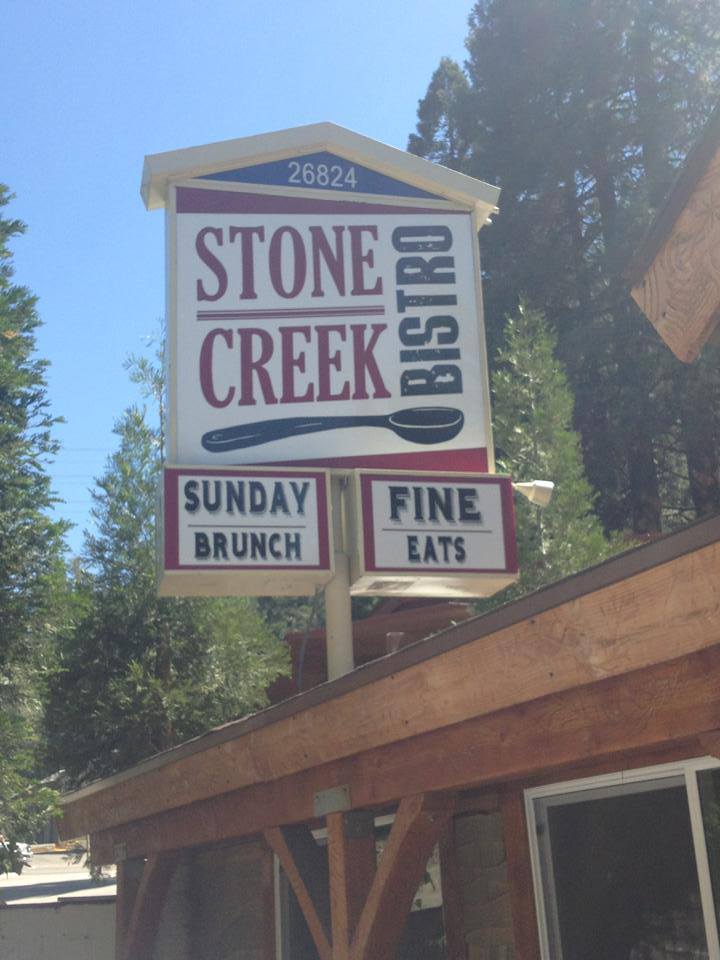 Stone Creek Bistro is an upscale, full-service bistro located on State Highway 189 in Blue Jay. Open for dinner Tuesday through Sunday. Stone Creek Bistro features seasonally driven produce, locally sourced dairy and meats, and house-made desserts, all created with love and passion by chef Sam Perry. The menu is moderately priced, with an eclectic mix of regional American comfort food and traditional French bistro cuisine. They use a combination of time-honored recipes with some cutting-edge molecular-gastronomy techniques.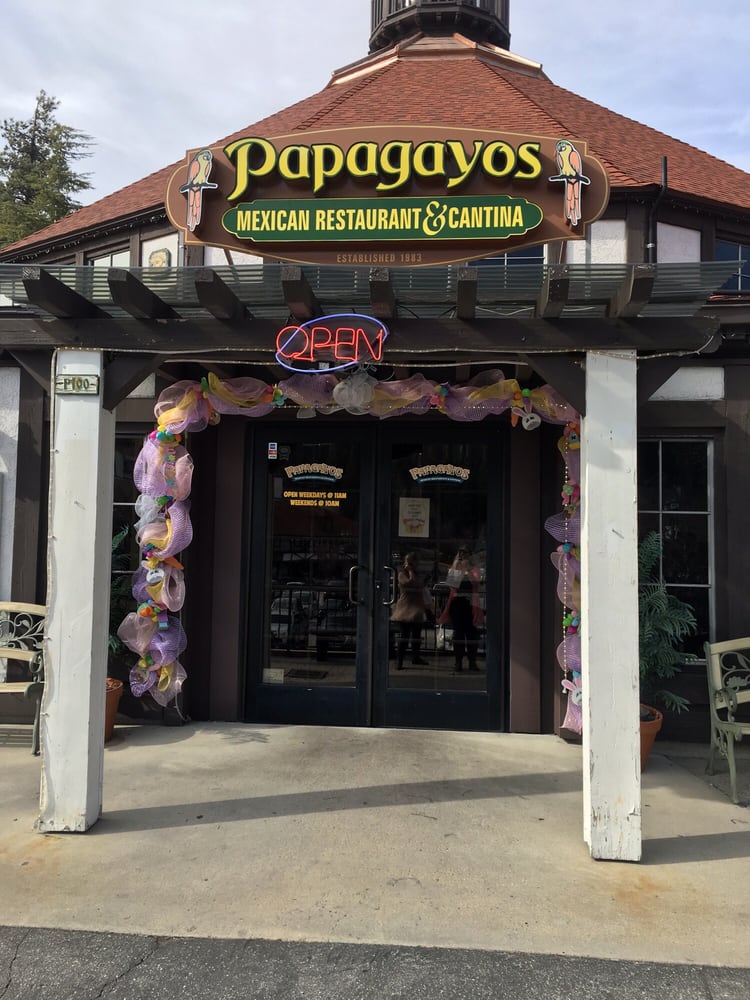 Papagayos is located on lower level of the Arrowhead Village with views of the lake from some of the dining tables. Since 1983 they have been serving locals and tourists alike. Nice bar and extensive menu with traditional mexican food. Outside is the Papagayos Lakeside Cantina and Taco Bar with incredible views of Lake Arrowhead. This is the place to be during the summer months. Large lakeside patio with umbrella covered tables, taco bar and Cantina. On Friday and Saturday nights during the summer you can listen to the free Summer Concert Series from the patio. Try the "Killer" margarita if you are feeling brave.


California Thai Cuisine features authentic Thai cusine as well as sushi. Favorites include green, yellow, red and panang curry that can be paired with beef, lamb, pork, chicken and shrimp. Other favorites include royal duck curry, orange chicken, cashew chicken, spicy eggplant, thai fried rice, chow mein and pad thai noodles. Large dining room and patio overlooking Lake Arrowhead. California Thai Cuisine also owns the Arrowhead Bar located right next door.


Woody and the Romack family have been serving up delicious food in Lake Arrowhead for over 25 years. They offer a casual, friendly and inviting atmosphere. The restaurant seats over 200 with lake views from every table. A beautiful outdoor patio is also available for dining. Woody's menu offers a wide selection of steaks, pasta, pizza, sandwiches, and many fresh fish and seafood items. The popular Sunday brunch is a real feast with the omelet and waffle bar along with barbeque meats and a giant boatload of salads and a large selection of homemade desserts.


This popular eatery was established in 1982 and has become one of the icon businesses in the Lake Arrowhead Village. The Belgian Waffle Works is known as a full-service family restaurant serving their famous Belgian-style waffles, homemade soups, salads, sandwiches, burgers, Espresso, Cappuccino, desserts and more. Open for breakfast, lunch and dinner. Located dockside on the lower level of Arrowhead Village, the Belgian Waffle Works has a nice outdoor patio that overlooks beautiful Lake Arrowhead. This family owned and operated business has over 17 specialty waffles to choose from. The waffles are made from their exclusive waffle mix, which is also available for in sale in the restaurant or online.


The patent pending brewing station at the Tea and Coffee Exchange combined with their original recipes and quality ingredients, gives you a new experience in taste. Choose from Hot Teas, Herbal and Tea Lattes, Shaken Ice Teas, Icy Blended Specialty Drinks, and a variety of specialty Hot Drinks. For food the Tea and Coffee Exchange offers made-to-order savory and sweet crepes and delicous panini's. From the bakery they offer everything from fresh scones to fresh croissants baked daily for ultimate freshness. The Tea and Coffee Exchange is located on the lower level of Lake Arrowhead Village.


Lake Arrowhead Pizza and Arcade offers food and fun for the whole family. It's a quick walk to The Village. There is a nice outdoor patio to eat and plenty of arcade games for the kids. Sitting outside on the terrace, watching the activit on the lake just can't be beat. Great pizza, reasonable prices and friendly staff. They offer a gluten free crust as well


Family owned restaurant serving the mountain since 1976. It is a blend of Italian and American fare. They are fast and for the portions you get everything is reasonable priced. The staff is friendly, fast and efficient. The food is fresh and tasty


Hortencias Mexican Grill is located off Highway 18 in Skyforest. Large patio and deck with umbrella coverd tables…great for dining outside during the warmer months. Extensive and affordable menu with many traditional mexican dishes. Try the "wet" tacos for something different. For dessert, the traditional Sopapillas with drizzled honey and vanilla ice cream are a must try! Beer and wine available.


Located off Highway 18 in Skyforest. The HungryBear serves all of your favorite hot and cold sandwiches as well as fresh salads, homemade soups and fresh baked desserts and pies for the sweet tooth. Their specialty is slow cooked/roasted meats and they like to use healthier brands. They proudly serve Dietz and Watson meats which are gluten-free and their Blue Bunny ice cream is fresh and of the highest quality. There is something for every picky eater in your group with top quality foods a great prices.


Established in 1942, this classic diner has been serving great burgers and malts to the local community and tourists for decades. Guest rave about their veggie burgers, onion rings and classic '50s decor, table top jukebox included.


Serving traditional, American cuisine and huge portions. Their breakfasts are the best around, be prepared for an omelette the size of a football. Located a few miles from the Village this little gem has great food, great service and great prices.


Arturo's Mexican Restaurant
Located in the Arrowhead/Blue Jay area, this mountain gem is open for Sunday Brunch starting at 7:00am offering a variety of tasty foods. Homemade tortillas for a taco bar, chili verde, and two kinds of enchiladas, chili relleno, menudo, grilled jalapenos, etc….Comfortable and casual atmosphere in an easy to get to location.